I thought today it would be fun to do a holiday tag and answer some holiday questions.
So hopefully you all enjoy it too.....if not maybe tomorrow I will be more exciting. 😉
Seriously though if anyone has any post ideas are topics I'm all ears! This is a lot harder than I imagined and frankly I'm not that interesting...so unless I can come up with a few more ideas this "blogmas" might turn into "I blogged for 14 days and realized I'm a super lame person and stopped."😅
10 Question Holiday Tag
1. What is your favorite part of the ho
liday season

?
My favorite part of the holiday season would have to be my kids. It's fun to have all of them excited about the magic of Christmas, and enjoying everything about it the holidays. The Christmas lights, the church Christmas programs, The Nutcraker, the Christmas songs, thinking of gifts to give. I love that they are all excited. I know there will come a time when not all of them are as impressed with the magic, so I am completely

enjoying

this year!
2. What is one of your family traditions
?
I have two favorites and they are both the favorite traditions from each Nathan and I's families and we now get to do with our kiddos. So growing up at my house we always got to open one gift on Christmas Eve and it was always a new pair of pajamas. It was always fun to get a new special pair most of the time they were matching or at least coordinating and with a house full of girls that was always fun. So that is what we have carried over from my side of the family. Now for Nathan his favorite was that they all got a new ornament for the tree each year. When he and I got married he got his box of ornaments and when we set up our first tree it was so fun to see all the things that had been picked out especially for him over the years. First Christmas ones, fishing ones, hunting ones, french horn (he use to play it in band), and my favorite a porch swing with "our first Christmas together"printed on it and our wedding date. So as soon as we put those up that first year I knew that was a tradition I wanted to be sure and do for our kids.
3.What's your go to polish or nail art design
?
I already talked about my love for OPI "I'm not really a waitress" and while I love a good red for the holidays there are a couple holiday nail designs I think are super cute!
4.What holiday(s) do you celebrate
?
Christmas
5. One thing you really want for Christmas
?
I had to think about this for awhile. I definitely don't need anything. I have more than enough stuff than one person should. But if I had to choose something I would say a purse. Only because I have legit been caring a diaper bag for the past 10 years, and the one purse I have is completely torn apart. That's so sad to write. When I moved here almost 12 years ago I had 2 giant totes labeled purses...now I have 2 large totes of diaper bags. But times are a changing and sadly my diaper bag carrying days are numbered.
6. What is the best gift you have ever received
?
I have two. In junior high my parents surprised me with Sheryl Swoopes shoes.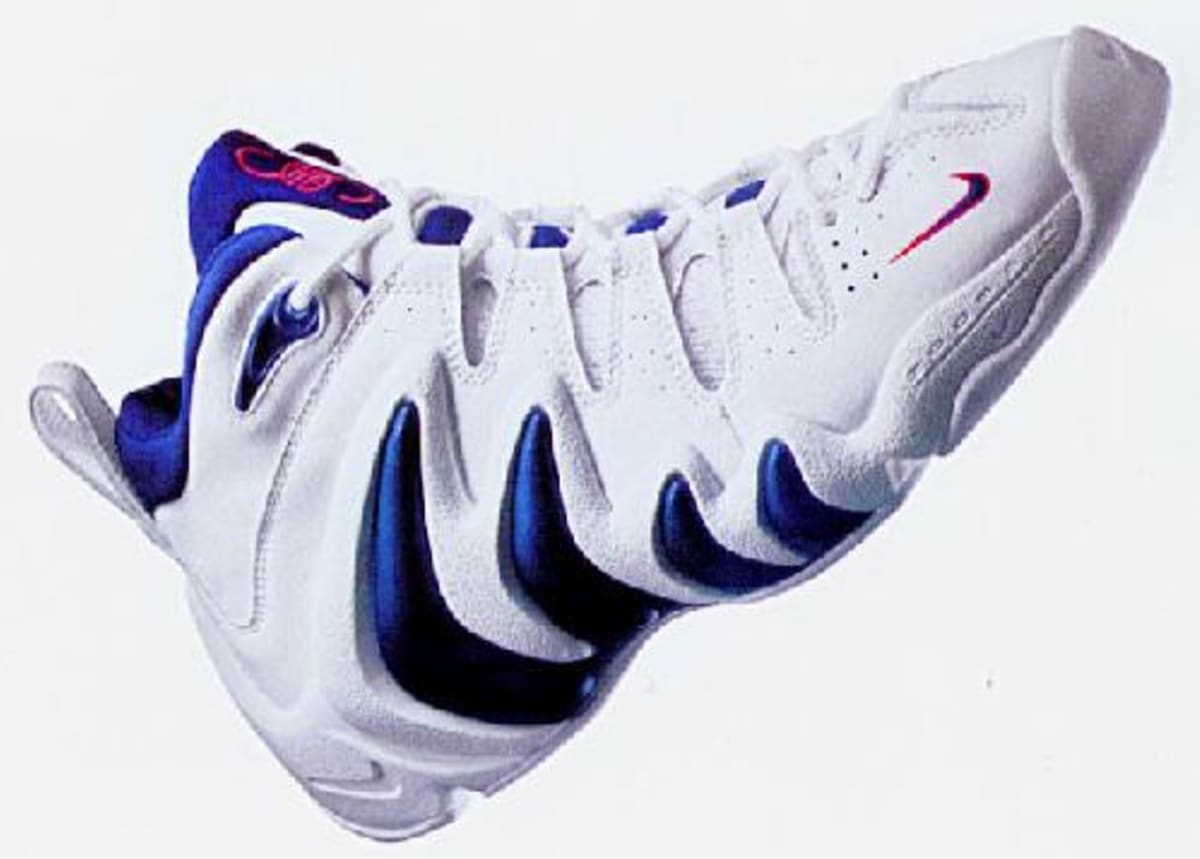 (google photo)
I about fell over dead! I still have them, and I still love them. I also got a Lisa Leslie Sparks jersey that year. The WNBA was my jam! To bad I was super short and not a great basketball player or I totally would of ended up there! I couldn't score a basket to save my life but man could I foul!
And second favorite was an early Christmas gift from Nathan when he proposed. Sadly I don't have one single pictures from when we got engaged, that was a long time ago...before Instagram.
7. Where do you like to spend the holidays
?
At home with my husband and kids. I love waking up Christmas morning just us and just enjoying the day.
8. Have you ever made a snowman, snow furniture, or snow angel
?
9. What is the weirdest gift you have ever
received?
I really can't think of anything that was super weird. I have gotten things like wool socks and pot holders, but that's just married life, and I think I asked for them.
10:What's your favorite holiday cookies
?
I have already talked about the fabulous "Forgotten Cookie" but as far as favorite holiday cookie I love a good sugar cookies with lots of frosting, and maybe some sprinkles.